Our History
In 1948, the Pacific Coast Conference Mennonites began a rescue mission in Portland, Oregon. Part of the vision of that mission was to create a farm home outside of the Portland area for recovering alcoholics to work on a farm.
By early 1949, a 160-acre farm was donated and a home was built. The farm operated until 1955, at which time the farm home was converted into a nursing home. The rescue mission continued to operate as such until about 1970.
Several additions and remodels of Rock of Ages occurred as it operated under Pacific Coast Conference Mennonites until 1968. At this time Bible Mennonite Fellowship Inc., another group of Mennonite Churches, took over the operation.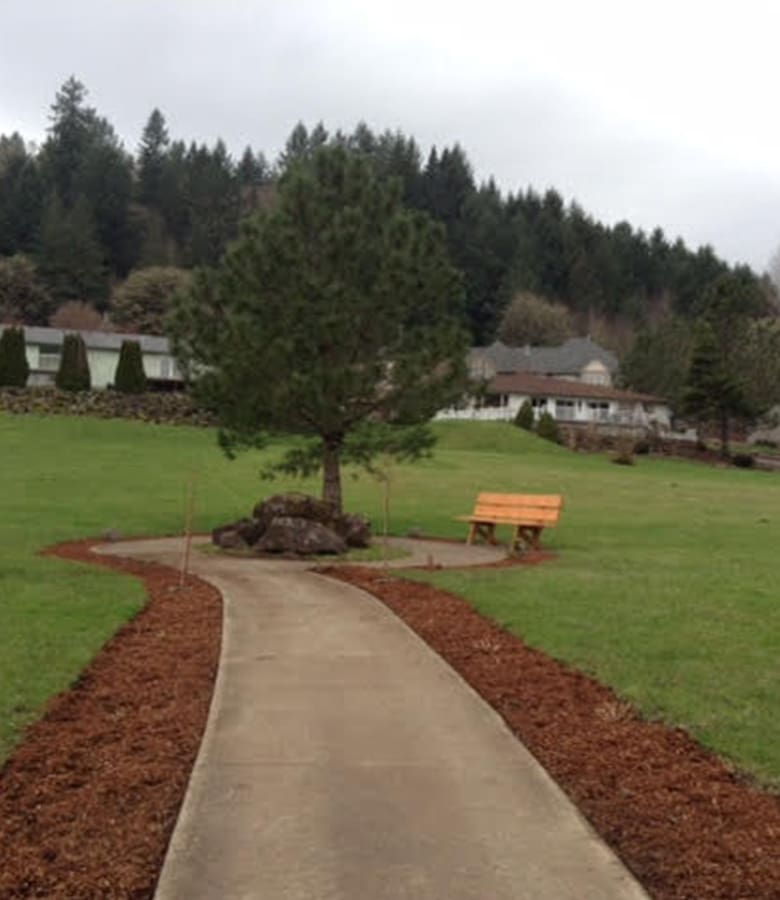 The board of directors made the decision to close the facility doors from 1973 until 1976 for renovation. It reopened as a 21-bed Residential Care Facility and has operated with RCF licensure since that date.
In 1989, plans were being made to build a small village and in 1991 we were building the first homes in Valley View Retirement Village. The 40 homes, most constructed as duplexes, now serve our more independent residents.
In 1995, the M.A.I.D.S. In-Home Care Program was started to meet the needs of those who required help in their own homes here on campus.
We now offer hospice care for those in need. Our program continues to grow and provide compassionate care for retired adults in our residences.
Our Mission
A caring community, nurturing friendships,
thriving by serving each other, representing
Jesus and His servant example to all people.
Our Vision
Providing a home where our elders and the
most vulnerable find respect, honor, and
friends. Trustworthy and committed staff
serving in a setting where individuals are
blessed by God's love and creation.
Delvin Zook
CEO
In June of 1981, Delvin Zook became a full time volunteer for Rock of Ages Mennonite Home. Delvin, his wife Twila, and their children moved to a home on the grounds. Delvin served in the maintenance department as well as in direct care staff. He was also an administrator-in-training. In 1982, he became a paid employee and the administrator of the facility.
Delvin's passion is serving the elderly population. He believes that quality for seniors in a home-like setting is very important. He has worked to improve not only the organization here, but also on various work task forces for the State of Oregon. Delvin also has served in various positions in the Oregon Alliance of Senior and Health Services, a state association serving about 100 not-for-profit facilities. In addition, he is a Board member for Leading Age, the national organization serving not-for-profit facilities. Delvin has served over 16 years for the National Board of Examiners (NAB).
Delvin is active in the community, serving on boards such as McMinnville Chamber of Commerce and Western Mennonite School. Delvin and his wife Twila have been serving Rock of Ages residents for over 36 years.
Karen Nisly
In-Home Care Administrator (M.A.I.D.S.)
Karen's extensive experience of 30 years at Rock of Ages and in In Home Care environments and serving others has made her invaluable to Rock of Ages.
Rebecca Cross
Kitchen Manager
Rebecca, managing the kitchen and dining works with a smile, strives to improve dining and providing delicious meals for the residents and an excellent dining experience.
Candice Armour
Executive Assistant
Candice has served over 17 years at Rock of Ages working with compassion in various leadership positions. She now serves as the Exec Assistant to the CEO.
Catya Ciriano
Memory Care Administrator
Catya is an inspiring leader. She holds an Oregon RCF Administrators license. She is a great leader and guides quality care in our memory care center. Katya has worked for Rock of Ages for over 4 years.
Andrea Scott
In-Home Care Administrator (M.A.I.D.S.)
After 7 years as an in-home caregiver Andrea will become the administrator of MAIDS once she has completed her Administrator in-home certification.
The team's responsibilities include visitation for those needing support, showing compassion through a difficult time, and rejoicing together at times of celebration and achievements.
Job Opportunities
We are seeking Volunteers, Caregivers and a Bookkeeper/Office Manager.
If you would like to help out as a volunteer, Come see us. There are tons of opportunities to help out!
To apply for a Caregiver position, which includes enhanced training for Alzheimer and dementia care with a positive approach, read our job description below and download the application today.
To apply for the Bookkeeper/Office Manager position, please read our job description below and reach out to us to apply!
Our mission supports residents to live life with purpose!
Call 503.472.6212 or contact us to meet our team today!
Valley View Rock of Ages
15600 SW Rock of Ages Rd
McMinnville, OR 97128
Hours:
Monday - Friday
8:00 a.m. - 5:00 p.m.